Redlining suit against Chaska's KleinBank tests limits of bias laws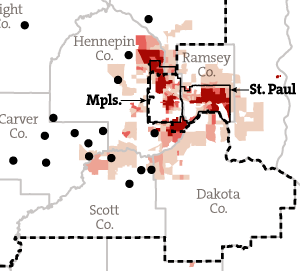 By Jeffrey Meitrodt, Star Tribune
A discrimination lawsuit the U.S. Department of Justice recently filed against a family-owned community bank in the Twin Cities' western suburbs could become the first test of the government's ability to force suburban banks to do business in inner cities.
The Justice Department, which sued Chaska-based KleinBank earlier this month, has filed a dozen similar lawsuits since 2002 against banks that operated primarily in suburban areas. The first 12 settled quickly, according to a Star Tribune review of federal fair lending cases.
But KleinBank, which has repeatedly passed federal reviews on its lending in low-income areas, is adamant that the government cannot tell it where to build branches or market its services.
"We will not admit to wrongdoing when we have done nothing wrong," said Doug Hile, KleinBank's president and chief executive. "At the end of the day, we're confident that a fair review of our actual practices and procedures will vindicate us."
In each of the previous cases, banks that had previously operated in affluent white suburbs agreed to open at least one new branch — and as many as four — in underserved minority neighborhoods. The banks also agreed to set aside as much as $25 million in below-market loans for minority borrowers and to aggressively promote those new lending opportunities. (Read more)