NCHE Welcomes New Deputy Director for Programs & Strategy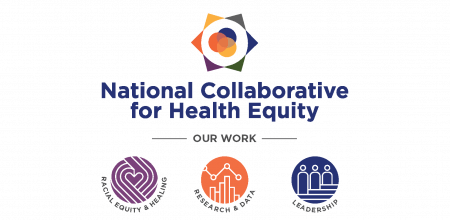 The National Collaborative for Health Equity (NCHE) welcomes Luz B. Delgado as Deputy Director for Programs & Strategy.
Ms. Delgado is a national expert in organizational management, grassroots mobilization, and advocacy for social justice and equity.  Ms. Delgado worked with Fortune 500 pharmaceutical companies, as well as in the philanthropic, and non-profit sectors.  She worked with the W.K. Kellogg Foundation, where she was a Program Officer for Truth, Racial Healing & Transformation and Deputy Director to the Vice for Racial Equity and Healing, Community Engagement & Leadership, Learning & Impact, and the priority places of New Mexico, Mississippi, and New Orleans.
"I support change and transformation in organizations and executives to achieve equity, racial equity, inclusion, diversity, and social justice," Ms. Delgado said. "I look forward to continuing that work with NCHE."
Ms. Delgado will play a critical role in overseeing NCHE's three priority areas: Truth Racial Healing and Transformation for Health Equity, Research Data and Information Systems, and Leadership for Health Equity.  A key member of the NCHE leadership team, she will lead NCHE's strategic planning and partnership efforts to advance NCHE's growth and development of a diverse and passionate team that represent the values and equity-centered vision of NCHE.   
Ms. Delgado holds a Masters in Organizational Management and Development from Fielding University, Santa Barbara; and a BA in Management at Universidad Interamericana, Arecibo, Puerto Rico. 
We are also happy to announce NCHE promotions for Jalisa Whitley and Willene Hare.
Jalisa Whitley has been promoted from Senior Program Manager to Director of Leadership Programs, where she will help develop leaders and catalyze cross-sector partnerships that create a more equitable and just society. Recognizing that action, leadership and collaboration drive policy decisions, Ms. Whitley strives to connect with people impacted by social and racial injustices and transform systems and institutions built on the enduring legacy of racism.
A native of Geneva, New York, Ms. Whitley received a Bachelor's of Arts in Sociology and Public Policy from Hobart and William Smith Colleges and a Masters of Public Policy in Nonprofit Management and Leadership from the University of Maryland, College Park. 
As Director of Leadership Programs, Ms. Whitley is responsible for assisting in the development, implementation, quality, and success of the NCHE leadership programs and other NCHE initiatives, including the Culture of Health Leadership Institute for Racial Healing and Healing Through Policy Initiative, an initiative of the de Beaumont Foundation, the American Public Health Association, and the National Collaborative for Health Equity.
Willene Hare has been promoted from Program Coordinator to Program Associate. She will continue to support NCHE's leadership programs, specifically, the Culture of Health Leadership Institute for Racial Healing (CoHLI), a new 18-month leadership experience that supports on the ground practitioners within diverse public health, health equity, advocacy, academic, nonprofit, and other networks to engage in shared learning and strategy development.  As Program Associate, she will also support a variety of NCHE's other programs.  Ms. Hare received her degree in International Comparative Studies, Bachelor of Arts, Health Policy certificate from Duke 2007, Masters of Public Administration from University of the District of Columbia in 2011.
"We are all excited to welcome Luz Benitez Delgado to our NCHE team; and we celebrate the promotion of our talented and dedicated staff members, Jalisa Whitley and Willene Hare.  It's with joy that we announce these staff changes to meet the expanding demand for our work on racial and health equity." Gail C. Christopher