Rev. William Barber Honored by MCF, ABFE and HIP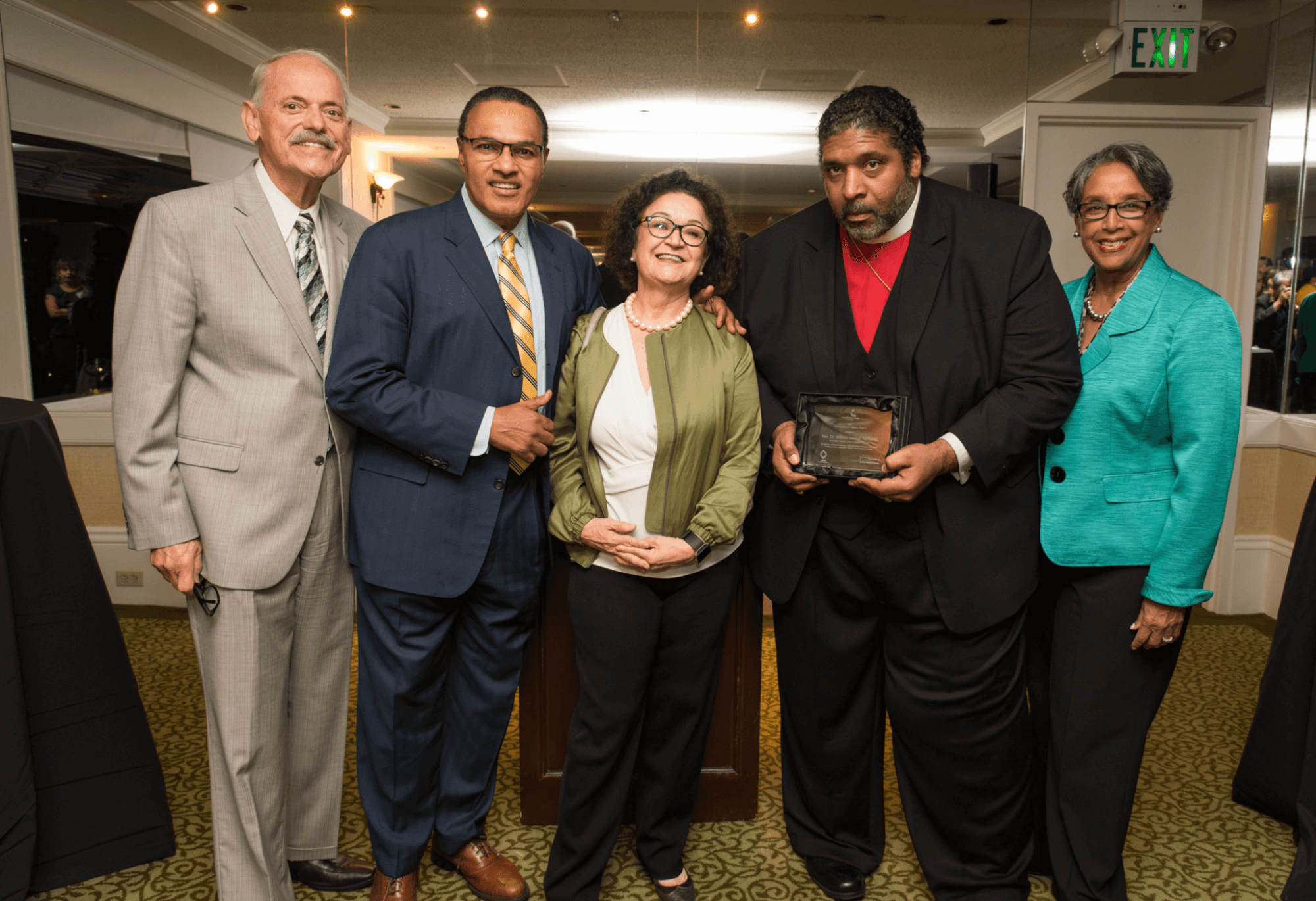 SEATTLE – Marguerite Casey Foundation, a national philanthropy that believes no family should live in poverty, is pleased to announce that The Rev. Dr. William J. Barber II – who launched the "Moral Monday" peaceful protests in North Carolina and is a leader of a new Poor People's Campaign – has received the 2017 Patiño Moore Legacy Award.
Marguerite Casey Foundation, The Association of Black Foundation Executives (now known as ABFE) and Hispanics in Philanthropy jointly honored Barber with the Patiño Moore Legacy Award on November 12, 2017 for his leadership and collaboration in bringing African-Americans and Latinos together for a shared vision of justice and social change.
The Award is rare, if not unique, in U.S. philanthropy because it specifically recognizes partnership and progress in Black and Brown communities, as well as the idea of movement building that centers on people organizing to find solutions, especially in the face of poverty.
Barber is pastor of Greenleaf Christian Church (Disciples of Christ) in Goldsboro, North Carolina and president and senior lecturer at Repairers of the Breach, Inc. He received the Patiño Moore Legacy Award at Marguerite Casey Foundation's board meeting in Oakland, California. The Award includes $150,000 for Barber to advance his important work.
"The Patiño Moore Legacy Award and Rev. William Barber's impressive accomplishments remind us all of our 'better angels,' that we can move beyond differences," said Luz Vega-Marquis, president and CEO of Marguerite Casey Foundation.
"We're in a unique moment in the U.S. But, just as Rev. Barber is doing, we're all capable of positive change, breaking barriers and living up to America's democratic promise."
In 2013, Barber started the multi-racial, multi-generational "Moral Monday" movement in North Carolina, which grew in the South and attracted worldwide attention. During these nonviolent events, participants raised their voice about what they considered to be unjust policies.
Among Barber's other accomplishments:
Taking a public stand as a religious leader, supporting immigrant families and likening what they face to the African-American experience.
Working with his church to invest $1.5 million to create infrastructure to house a community development corporation and programs; this has resulted in 60 single-family homes, 41 units of senior-citizen housing, a preschool academy, computer labs, a community garden and a redemption program restaurant for those who once sold drugs or were gang members.
Raising awareness that climate change and disruption have a disproportionate effect on the poor and people of color.
Working to support the North Carolina Racial Justice Act of 2009, which allowed death row inmates to raise racial bias in the courts to appeal sentences.
Taking a lead to relaunch Dr. Martin Luther King Jr.'s Poor People Campaign and working with the Kairos Center for Religions, Rights, and Social Justice at Union Theological Seminary.
In September 2017, Barber invoked the Bible at a North Carolina NAACP event, when he called on lawmakers of all political parties to support immigrant families: "To not welcome the stranger, to not have fair and just immigration laws is to offend the heart of God."
He is the former president of the North Carolina NAACP. He serves on the national NAACP board of directors.
The Patiño Moore Legacy Award started in 2011. It is named after Dr. Douglas Patiño and Wenda Weekes Moore. Patiño is a founding board member of Marguerite Casey Foundation and vice chancellor emeritus of California State University. Moore has served as board chair of the W.K. Kellogg Foundation and on the board of the Council on Foundations.
Past Award recipients include: Puerto Rico Community Foundation, Dolores Huerta, Marian Wright Edelman, Community Coalition for Substance Abuse Prevention and Treatment, Causa Justa :: Just Cause, National Domestic Workers Alliance, South by Southwest Experiment and Puentes New Orleans, Inc.
ABFE, based in New York City, supports philanthropic partnerships for Black communities. Hispanics in Philanthropy, which is known as HIP and based in Oakland, California, strengthens Latino equity, leadership and voice. Started in October 2001, Marguerite Casey Foundation is an independent grantmaking organization that supports low-income families who are raising their voice and organizing for justice, equity and progress.