New Episode of NCHE Presents Released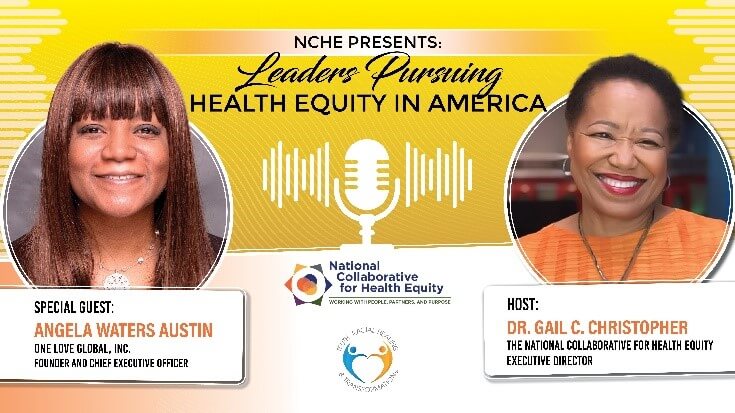 NEW EPISODE OF NCHE PRESENTS: LEADERS PURSUING HEALTH EQUITY IN AMERICA: LEARN HOW AUTHENTIC ENGAGEMENTS IMPACT RACIST BELIEFS & BEHAVIOR 
On the new NCHE PRESENTS: Leaders Pursuing Health Equity in America podcast (audio), Angela Waters Austin, executive director of One Love Global Inc., demonstrates the power of authentic engagements to address racism, telling host Dr. Gail Christopher about healing circles and discussions that generated positive results and changed beliefs. She also says the COVID-19 pandemic forced community organizations to adopt creative approaches. 
Throughout a reflective conversation, Dr. Christopher and Austin discuss the challenges and successes of their work that aims to heal racial wounds of the past and create paths forward that can transform American society. A chief objective is eliminating racism and uprooting the false belief in a hierarchy of human value, an antiquated notion that the human family can be divided and ranked based on skin color, physical characteristics, and ascribed traits.
In their talk, Austin recites authentic stories from her work at One Love Global, a non-profit working to transform communities so Black children experience justice, peace, healing, opportunity, and abundance.
Our communities are creating new narratives about the present and the past that raise expectations for equity, fairness and justice. This approach is building trust, relationships and healing across the divides, across racial and class lines. And in so doing, we are expanding the circle of engagement. We are building a critical mass and ultimately a majority, and super majority, of people who will unite behind the TRHT movement and transform our country.
In the NCHE podcasts, we will lift up leaders, who are finding innovative ways to generate healing and build the bridge to tomorrow. We will talk to leaders addressing the entrenched legacy of separation and segregation. We will strategize with those tackling the racist policies and legal structures that continue to impede progress. And we will hear from leaders working to create economic opportunities that can stabilize families Join our host, NCHE Executive Director Dr. Gail Christopher, on this journey. Tune in to NCHE PRESENTS: Leaders Pursuing Health Equity in America.