National Collaborative is pleased to be among one of four partners for RWJF's new National Leadership Program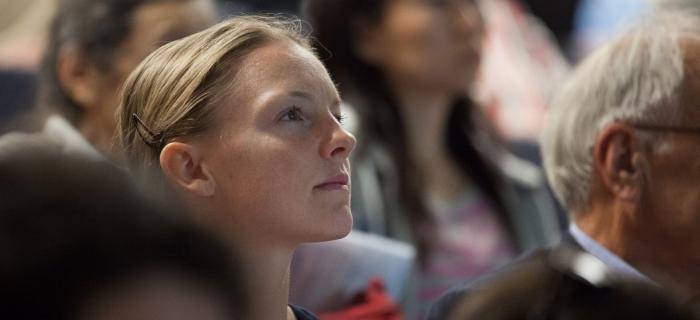 New Partners, New Ways of Thinking: Supporting "Change Leadership" to Build a Healthier Nation
by Herminia Palacio
Building a Culture of Health isn't easy. It may seem obvious, but think about it: Our nation didn't develop its current Culture of Unhealth overnight. Reversing it won't happen quickly, either. As John Lumpkin pointed out recently, paraphrasing Albert Einstein: "You cannot fix problems with the same logic you used in creating them."
That's why change leadership is so important.  Earlier this year, I blogged about change leadership and the integral role it must play in building a Culture of Health. That's when we announced that the Robert Wood Johnson Foundation would issue a call for proposals for organizations to lead four new National Leadership Program Centers. Just a few weeks ago, the Foundation announced the institutions selected to receive planning grants to get these four new leadership programs off the ground. The programs and institutions are:
Diversity in Health Policy Research (DHPR): Johns Hopkins University, Baltimore, Md. which will support doctoral students from underrepresented and/or disadvantaged populations by providing training in health policy, health equity, and population health. They will gain the needed skills and supports to lead change in communities across the nation.
Interdisciplinary Research Leaders (IRL): University of Minnesota, Minneapolis, Minn. will develop groups of networked researchers and community members who apply as a team, and who are dedicated to producing evidence needed to move the U.S. towards a Culture of Health.
Multisector Leaders for Health (MLH): National Collaborative for Health Equity, a project of New Venture Fund, Washington, D.C. will develop a diverse group of leaders representing key sectors influencing health (e.g., education, transportation, public health and public policy, business, health care, community development, and urban planning) and help them grow their influence to the next level.
New Clinical Scholars (NCS): University of North Carolina at Chapel Hill, N.C. will develop cohorts of networked clinicians who have attained a terminal clinical degree and who have the competencies to lead transformative change in communities to build a Culture of Health.