HEALTH EQUITY LEADERSHIP AND EXCHANGE NETWORK (HELEN) PRESENTS: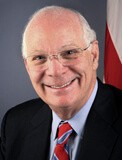 Congressional Perspectives: Advancing Health Equity in the 114th Congress Part 3
Please join us on April 29 for a live discussion with U.S. Senator Ben Cardin (D-Md.) on his perspective on advancing health equity in the current Congress
(Please submit any questions you may have for Senator Cardin ahead of time to Donovan Lessard at [email protected])
HELEN is pleased to welcome Senator Ben Cardin, will share:
•    Key policy priorities, including those related to the advancement of health equity
•    Senator Cardin's perspective on what can be achieved during the 114th Congress
•    Opportunities for health equity champions across the United States to collaborate
Attendees are required to register as space is limited. Registration will end at 12 noon EST on 4/29/2015. After registering, you will receive a separate email from Go to Meeting with call/internet information.