From Resolutions to Transformation: How Unions Are Organizing for Racial Justice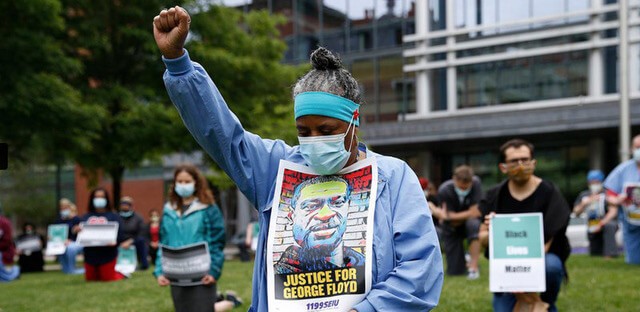 By Stephanie Luce, Organizing Upgrade
The recent wave of protests against police brutality open space for unions to step up their fight for racial justice. Many national unions issued statements in support of the protests and condemning police brutality, but a resolution only goes so far, particularly if written by union staff without engaging the members. How can unions take the fight for racial justice to new levels?
I spoke with union members and staff from three unions to find out more.
1199SEIU NEW ENGLAND
On June 11, 2020, members of the health care union 1199SEIU walked off the job to kneel for 8 minutes and 46 seconds of silence in memory of George Floyd and Breonna Taylor. The union joined the nationwide Walkout for Black Lives in support of the larger movement against police brutality and for racial justice (Read more).