Black Mamas Matter Webinar: Reproductive Injustice: Racial and Gender Discrimination in U.S. Health Care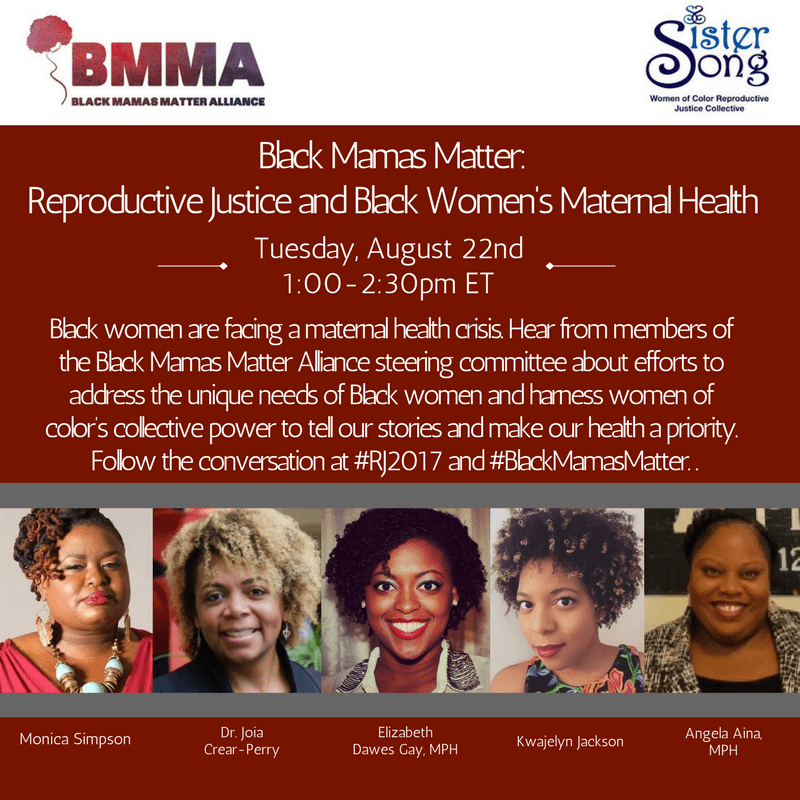 Black women are facing a maternal health crisis. In 2015, SisterSong partnered with the Center for Reproductive Rights on a human rights report,  Reproductive Injustice: Racial and Gender Discrimination in U.S. Health Care.  We also co-hosted a cross-sectoral convening of leaders on Black maternal health in Atlanta at the Mother House.
The Black Mamas Matter meeting brought together researchers, service providers, policy experts, and community organizers to identify innovative strategies for improving maternal health outcomes for Black women.
Out of this gathering came an innovative toolkit of resources to support the development of state strategies.  Organizers also identified the need to have a more structured effort to continue to recognize, celebrate, and support Black mamas.  The  Black Mamas Matter Alliance (BMMA) was launched in 2016.  They held the first Congressional briefing on Black women's health last month.
Please, join us Tuesday, August 22nd from 1:00-2:30pm EST to hear from BMMA steering committee members Monica Simpson (SisterSong), Dr. Joia Crear-Perry (National Birth Equity Collaborative), Elizabeth Dawes Gay (Consultant), Kwajelyn Jackson (Feminist Women's Health Center), and Angela Doyinsola Aina, MPH (BMMA Programming Chair).
Learn how they are working to address the unique needs of Black women and hear more about efforts to harness women of color's collective power to tell our stories and make our health a priority. Click HERE to register. You can also follow and contribute to the conversation using #RJ2017 and #BlackMamasMatter.