A Guide: What to Do if You See Islamophobia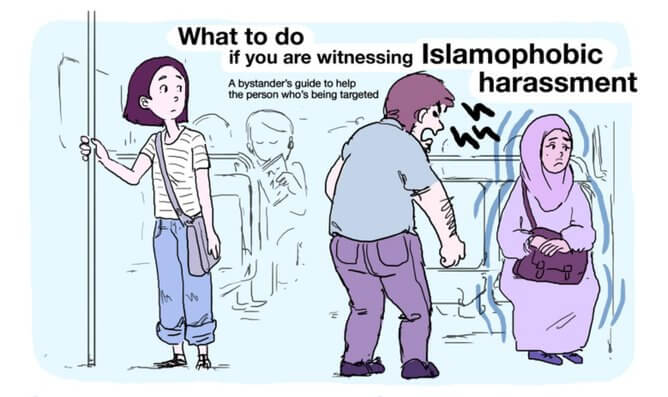 The 3 April has been dubbed 'Punish a Muslim Day' by extremists.
The Met has insisted "there is no credible information to suggest there is any criminal activity that will take place", and a number of organisations including Tell MAMA, as well as people online, are using the hashtag '#WeStandTogether to show solidarity with Muslims.
For those who do witness Islamophobia, there's a number of things you can do.
Marie-Shirine Yener, a 22-year-old Parisian illustrator, created a guide to give people advice on how they can help Muslims who are being harassed.
She based her strategy on "non-complementary behaviour" – a concept in psychology which aims to disrupt an oppressive connection a potential attacker is attempting to establish with the target.
1. Talk to the victim, ignore the attacker.
2. Talk about something random.
3. Keep building the safe space.
4. Continue the conversation until the attacker leaves and escort them to a safe place if necessary.