Newark Beth Israel Medical Center Hosts Health Equity Leadership and Exchange Network Newark Roundtable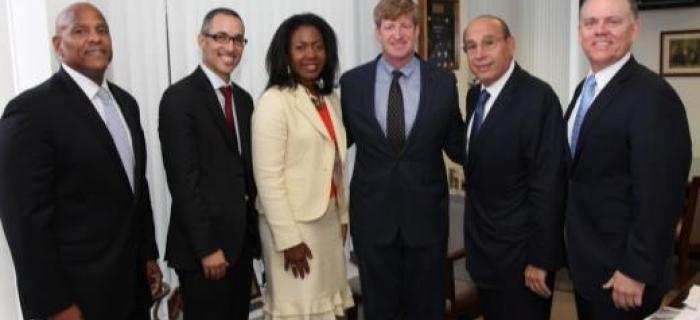 Newark, NJ, October 30, 2015-— Newark Beth Israel Medical Center and Children's Hospital of New Jersey recently hosted a roundtable discussion of the Health Equity Leadership and Exchange Network (HELEN), in collaboration with the Kennedy Forum and federal policymakers, exploring the Intersection of Health Equity, Integrated Care, and Quality Improvement.
The Newark Roundtable was the second in a series of four discussions held throughout the country. Featured keynote speaker, Former Rep. Patrick Kennedy, founder of the Kennedy Forum, provided opening remarks. Experts gathered representing various geographic regions, racial and ethnic groups, community-based organizations, health professionals, payors and providers in order to discuss the challenges each face as they pertain to health equity, integrated care, and quality improvement.
Attendees to the roundtable included Daniel E. Dawes, J.D., Principal Investigator of HELEN and Executive Director of Health Policy and External Affairs at Morehouse School of Medicine; Barry H. Ostrowsky, President and Chief Executive Officer, Barnabas Health; Michellene Davis, Esq., Executive Vice President for Corporate Affairs, Barnabas Health; The Honorable Ras J. Baraka, Mayor of Newark, New Jersey; The Honorable Donald Payne, Jr., U.S. House of Representatives; and The Honorable Frank Pallone, U.S. House of Representatives; officials and stakeholders from the New York, New Jersey and Newark communities.
Discussion described health care access and quality of care challenges from various perspectives. The commentary from the roundtable will be compiled into a report to be presented to Washington, D.C. policymakers.