New Partners for Smart Growth Conference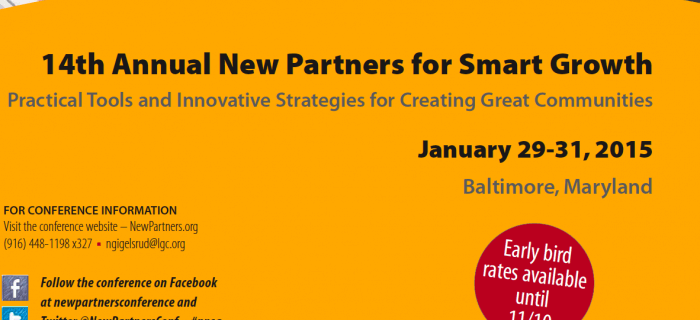 The theme for New Partners 2015 is "Practical Tools and Innovative Strategies for Creating Great Communities," underscoring this year's stronger emphasis on implementation. The program  will feature tools, strategies, focused trainings, experiential learning opportunities and new  technologies that will help communities NOW. View the conference brochure for more information.
Session: Place, Race, and Equity: From the Frontlines of the PLACE MATTERS Initiative
Moderator: Brian Smedley, Ph.D
Presentation: Tapping the Power of Youth in Urban Greening: Innovations from the Mid-Atlantic
Speaker: Autumn Saxton-Ross, Ph.D.
Date: January 29, 2015
Time: 4:00 PM-5:30 PM
Location: Baltimore, MD
Register HERE
Presentation: Advancing Local and Regional Food Systems: Opportunities to Grow Resilient, Equitable Communities
Speaker: Autumn Saxton-Ross, Ph.D.
Date: Janurary 28, 2014
Time: 2:45 PM-4:00 PM
Location: Baltimore, MD