Latest Episode of NCHE Presents Released – March 15 2023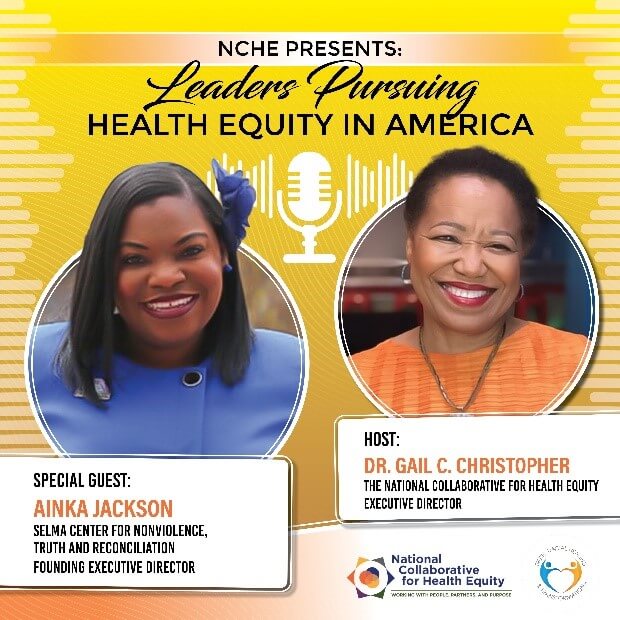 NEW EPISODE OF NCHE PRESENTS: LEADERS PURSUING HEALTH EQUITY IN AMERICA: LEARN HOW AINKA JACKSON HELPS BRING RACIAL HEALING TO SELMA
On the new NCHE PRESENTS: Leaders Pursuing Health Equity in America podcast (audio), Ainka Jackson, founding Executive Director of the Selma Center for Nonviolence, Truth, and Reconciliation, is committed to eliminating "the cancer that is racism" and facilitating economic justice, she tells host Dr. Gail C. Christopher on the new episode of the NCHE PRESENTS: Leaders Pursuing Health Equity in America podcast.
The center was founded in 2014, Jackson says, "to address different forms of violence, whether that be economic violence, whether that be racial violence or whether that be physical violence." She adds, "It's insane that this place where nonviolence overcame violence was the eighth most dangerous place in the country in 2016. And we believe that broken relationships led to broken economies, leading to broken communities, all in need of healing."
But the center's work has made a difference.  "We work with communities to heal relationships, to heal the economy and heal communities, not to fix, but to heal," she says, noting that their formula includes addressing the root causes of issues.  Fueled by their community work and efforts of their partners, murders in Selma declined by nearly 40% in 2022 after an increase of 56% from 2016 to 2021.
"The work is so impressive," responds Dr. Christopher, the Executive Director of the National Collaborative for Health Equity (NCHE). "When we think of Selma, we imagine the (1965 Selma to Montgomery March), we imagine that original work back there in the Civil Rights era. And for you to give us this data today, it's just heart-wrenching. I'm excited to hear about some of the success that you had and some of the ways that you know you're succeeding." 
The center implemented a violence intervention program in communities, which is bolstered by the HOPE data collection initiative run by NCHE.  Jackson describes their comprehensive program, which addresses both victims and perpetrators, while targeting the inequities endured by everyone in the community.                                                   
"It's rooted in nonviolence, which is unique for violence intervention programs," Jackson says.  "A lot of them aren't, but given our history of nonviolence in this city, we thought that was important to help produce a cultural shift. Our street outreach workers come from the communities in which they serve, which is essential. They are trusted leaders, trusted community members, trusted vessels to intervene, to actually go to the scenes when there is violence, but also to be in the communities day-to-day, connecting people with employment and educational opportunities, ensuring that people have what they need; but getting to the root causes of why there is violence and building the Beloved Community. The last component is victim services.  We are one of few models that actually serve potential perpetrators and victims. When getting to the root causes, we understand that all of these people are impacted by the root causes. Our victim services – our survivor services programs: whether it's helping to plan a funeral of a loved one, helping to find resources, doing victim compensation, or doing restorative justice, are making sure that healing (is taking place).  Making sure that those families have what they need is an essential part of this work. It's the hard part of this work, particularly when there are so few mental health resources in a rural area. But our team is making it happen."
Further, Jackson cites the racial healing that is drawing people together.  "We had a White evangelical Trump supporter that recruited more people to our racial equity training locally than anybody else," she says. "We are very intentional about rooting our work in love. And let me be clear, love is action… love is justice."
Dr. Christopher applauds her work, saying, "That is so powerful. So many things you said just landed…in terms of the realities of your community. At the same time resilience and your capacity to do the hard work of connecting people at a heart level – so few people are willing to to be patient and to extend that grace. I'm just so happy to lift your story and to have people hear it. This matters, it makes a difference."
To hear more of their enlightening conversation, tune in HERE