Civil rights organizations stand with Arab and Muslim communities in wake of Chapel Hill shootings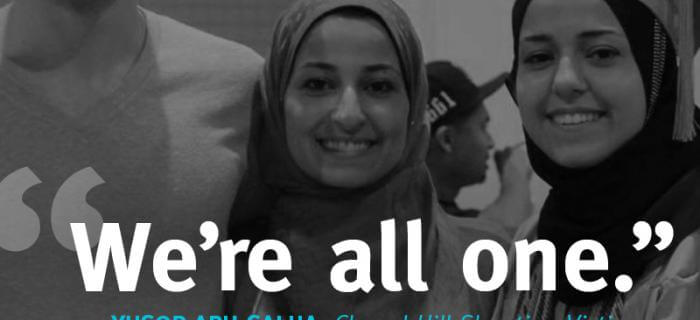 Contact:
Jennifer Farmer, Advancement Project
202.487.0967
[email protected]
Washington, D.C. – Leading national health, racial equity and civil rights groups, joining together as grantees of the W.K. Kellogg Foundation's America Healing initiative, issued the following joint statement in response to the shootings of three Muslim students of Arab descent in Chapel Hill, North Carolina, on Feb. 10, 2015.
We extend our condolences to the families and friends of Deah Shaddy Barakat, Yusor Mohammad and Razan Mohammad Abu-Salha and stand with Arab, Muslim and all communities across the nation in mourning their tragic deaths.
This event reminds us of the feelings of fear and terror that result from acts of violence rooted in racial discrimination. Together we raise our voices to #takeonhate and assert that differences in appearance or beliefs cannot justify violence.
As the Chapel Hill community and the rest of the nation moves forward, we must continue to strive toward racial equity, rejecting discrimination and racism, and uphold the inherent worth and dignity of all people. The strength and future of our entire nation is at stake.
We encourage others to learn more about the Take on Hate campaign here.
Advancement Project, Asian & Pacific Islander American Health Forum, DEMOS, NAACP, National Collaborative for Health Equity, National Congress of American Indians, National Council of Asian Pacific Americans, National Council of La Raza, National Urban League, PICO, Poverty & Race Research Action Council and Race Forward are part of America Healing, a long-term effort of the W.K. Kellogg Foundation, working to improve life outcomes for vulnerable children by promoting racial equity and eliminating barriers to opportunity.
Related statements:
National Council of Asian Pacific Americans