"The largely insular appraisal industry of 78,000 is skewed over 85 percent white with less than 2 percent of appraisers identifying as Black."
By American Heart Association News, chicago.suntimes.com
"Untreated, high blood pressure can lead to disabling, potentially fatal illnesses including heart disease, stroke, dementia, kidney disease, sexual dysfunction, vision loss."
By Nicquel Terry Ellis and Deidre McPhillips
(CNN) Black and Latino Americans are receiving the Covid-19 vaccine at significantly lower rates than White people — a disparity that health advocates blame on the federal government and hospitals not prioritizing equitable access.
A CNN analysis of data from 14 states found vaccine coverage is twice as high among White people on average than it is among Black and Latino people. The analysis found that on average, more than 4% of the White population has received a Covid-19 vaccine, about 2.3 times higher than the Black population (1.9% covered) and 2.6 times higher than the Hispanic population (1.8% covered) (
Read more
).
By Karen Jordan
CHICAGO (WLS) — It's been 45 years since the first observation of Black History Month.
This year, the celebration of the contributions of Black people comes in the wake of widespread protests over the death of George Floyd and a racial reckoning across the US (Read more).
Social change agent Dr. Gail C Christopher is on a mission to heal our nation, and dismantle the collective belief at the core of our dysfunction: that some lives are worth more than others. Dr. Christopher has been advising Congress on how we can best move forward, and she believes a Truth, Racial Healing and Transformation Commission is the answer. Listen to her latest interview with Mary Curtis for her podcast, "Equal Time" here: https://www.rollcall.com/podcasts/equal-time/if-racism-is-a-lie-how-has-it-been-sustained-institutionalized-and-structured-in-america/
By Dr. Gail C. Christopher
Executive Director
National Collaborative for Health Equity
"On this day of service and reflection, the greatest service we can render as individuals and collectively is to commit to ending racism. We have now all witnessed the dangerous and destructive consequences of believing in a false hierarchy of human value, indeed of human lives. The lie of racial hierarchy and its many associated false narratives were laid bare recently. This nation's symbolic place and institutional processes of democratic governance were violated with reckless, but determined abandon. We are still reeling from the shock and humiliation in our hearts and bodies and in the eyes of the global community.
"Dr. Martin Luther King, Jr. believed we would get to the Promised Land. I believe that, too. But we must commit to the necessary work before realizing his vision, his dream. Not enough Americans share Dr. King's Dream and far too few are willing to labor to bring it into reality. Overcoming and healing from racism requires focus, intention and disciplined effort. Most public health leaders know that defeating the Covid-19 pandemic requires communal effort.
"Our individual choices and decisions shape our collective realities and structures of normality. Many public health leaders have recently asserted that racism is a twin pandemic, a lethal public health crisis. This level of increased awareness is good news. It is time that we view the work of ending racism as a communal effort, too. The beliefs we hold about ourselves and others drive our thoughts, feelings decisions and actions. Critical actions like voting, engaging law enforcement, hiring or firing, providing opportunity or rendering medical treatment, enforcing health and safety codes and college admissions are a few illustrations of decision points that can be shaped by our levels of racism.
"Our beliefs are shaped by our lived experiences beginning in childhood. Democracy cannot translate into equity until we jettison permission to devalue people based on an antiquated taxonomy of humanity. America's most deeply enshrined racist ideology will keep showing up within systems and policies, institutional cultures and structures of opportunity and in the communications tools of this era, mainstream and social media, until we deliberately and permanently eliminate the ideology. Algorithms will also embody and perpetuate the lies and patterns of racial hierarchy via technology and artificial intelligence without immediate intervention to stop the spread.
"Dr. King knew the protests and marches were means to an end: the creation of the Beloved Community. We also need the skills and capacities required for civility, empathy, compassion and perspective-taking. These skills are developed through effective racial healing, truth telling, trust building and transformation efforts. This is the vaccine needed for the pandemic of racism and it too will require a massive mobilization effort in response to the fierce urgency of then and now."
###
PDF Version: MLK Day Statement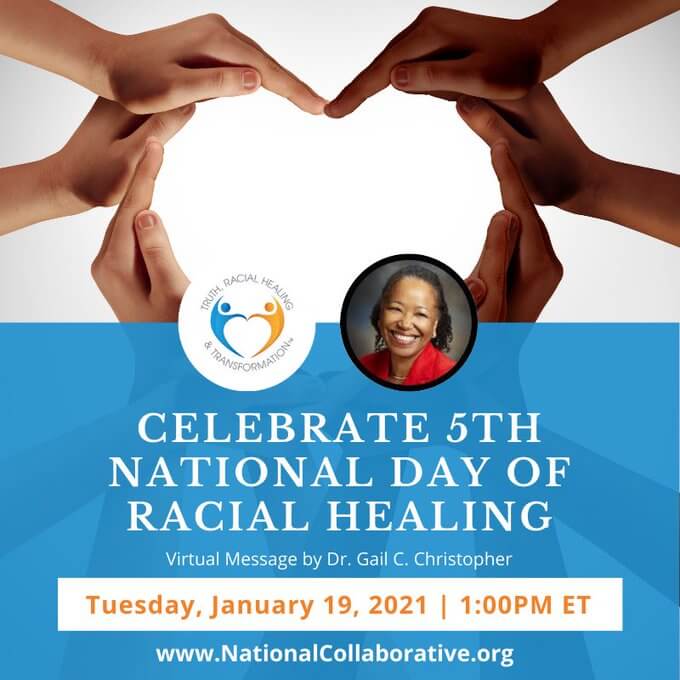 Join us for a message on #RacialHealing #AmericaCanHeal 1.19.21 @1PM ET at  https://nationalcollaborative.org #NationalDayRacialHealing #EndRacialDiscrimination #TheTimeIsNowEndRacialDiscriminiation
The King Center Presents: Beloved Community Global Summit – Day 2: https://fb.watch/35ma6YiTHv/
FOR IMMEDIATE RELEASE
November 19, 2020
Contact:
Michael K. Frisby
202-625-4328/[email protected]
HOPE INITIATIVE'S GROUNDBREAKING RESEARCH ON MINORITY HEALTH BRINGS "OPPORTUNITY APPROACH" TO REDRESSING RACIAL AND ETHNIC INEQUITIES
Go to   www.hopeinitiative.org
Innovative, interactive experience brings comprehensive data to researchers and the public
WASHINGTON – The Health Opportunity and Equity (HOPE) Initiative today launched a state-of-the-art platform that supports a new narrative on health inequities and provides achievable pathways for states to eliminate health disparities. In the midst of a national Reckoning on Race and the COVID-19 pandemic, this comprehensive data on populations of color is a critical resource for policymakers, as well as the medical and public health fields.
HOPE data portrays an America that would be dramatically different if the impact of racism embedded in our society was eliminated and everyone experienced equal social, economic and health opportunities: 70 million more people would live in low poverty neighborhoods; 55 million more adults would live in households with a livable income; and 54 million more adults would achieve very good or excellent health.
Specifically, HOPE tracks 27 indicators on health outcomes and factors that shape health and well-being – social and economic factors, community and safety conditions, physical environment and access to health care.  Their research on these social determinants of health identified the opportunity gaps for people of color that frequently lead to racial inequities in health outcomes.
"When we started the HOPE Initiative, we recognized that fresh research was needed to change the disparity narrative," said Dr. Brian Smedley, an architect of the HOPE Initiative. "For too long, the attention has been on identifying health disparities and not enough on addressing those disparities."  Dr. Smedley, who is the Chief of Psychology in the Public Interest at the American Psychological Association, added: "With this data, we can pinpoint where resources must be directed to make today's Reckoning on Race meaningful and lasting."
The prestigious New England Journal of Medicine today published a powerful infographic on their website based on the HOPE research. Featuring 10 of the 27 HOPE indicators, it was developed for their Race & Medicine page as part of their commitment to antiracism. The HOPE website at hopeinitiative.org will provide an interactive experience with all 27 indicators, allowing users to explore data segmented by indicators, states, race and ethnic and socioeconomic groups.
"Our analyses, for the first time, provide national and state leaders practical data to move beyond talking about racial disparities to setting actionable goals and charting a path forward for achieving equity in opportunity and health," said Nadia Siddiqui, chief health equity officer of  Texas Health Institute.
The research found that health status for racial groups is not uniform. Some minorities in the healthiest regions, particularly areas with less diversity, such as New England or the Northern Great Plains states, report better health. Health profiles for racial groups also vary: Just one- third (34%) of Hispanic adults reported being in very good or excellent health compared to more than half of Asian/Pacific Islanders (55%) and White (53%) adults.
HOPE data demonstrates the impact of the nation's legacy of systemic racism that has left low- income and communities of color disenfranchised from opportunities and contributed to their poor health. The research, which includes data on whites, was conducted before the COVID-19 outbreak. Led by the National Collaborative for Health Equity (NCHE), the HOPE Initiative is a collaboration with Texas Health Institute and Virginia Commonwealth University's (VCU) Center on Society and Health. NCHE, a renown national organization, addresses health inequities through leadership collaboration, innovative use of data and racial healing.
"This is groundbreaking research," declared Dr. Gail C. Christopher, NCHE's executive director. "The HOPE data can help public health officials move beyond identifying inequities in communities of color to spurring action addressing social determinants affecting their health. For America to be a healthy nation, we must make health equity a reality for everyone and overcome the impact of the racism embedded in our society."
Dr. Derek Chapman, Interim Director of the VCU's Center on Society and Health, said, "Policymakers, advocates, and other stakeholders can use the HOPE data to measure how far states must go to achieve equitable opportunities for health and well-being, and inform policy solutions and practices that advance health equity."
Funded by the Robert Wood Johnson Foundation, HOPE calculates obtainable goals for each category by averaging the best assessments from the top five states in the country, establishing realistic objectives for the states to reach. HOPE assesses indicators, sets goals and computes the progress required by each state for racial groups to reach health equity. Meeting the goals would provide pathways to stable jobs, quality schools, safe environments, food security and other resources that contribute significantly to improved health outcomes. For instance:
In Colorado, more than 434,000 Hispanics need improvements in economic opportunity and neighborhood conditions to lift them out of areas with concentrated Nearly 255,000 Hispanics need to be provided with fair opportunities to earn livable wages to sustainably support their households.
In Arizona, more than 200,000 of the 265,000 Native Americans in the state need to have improved economic opportunity and neighborhood conditions to lift them out of areas with concentrated poverty. More than 121,000 Native Americans need adequate access to food and nearly 87,000 Native Americans need opportunities to earn livable wages.
In Wisconsin, more than 205,000 African Americans need economic opportunities and
improved neighborhood conditions to lift them out of areas with concentrated poverty. Nearly 107,000 African Americans also need to be provided with fair opportunities to earn livable wages to sustainably support their households.
"HOPE measures affirm well known challenges in states and regions such as in the South. But these data add new insights that find how risks to health and life can affect all regardless of race or ethnicity. In that way it suggests that opportunities for programs and policies to improve health can and should aim to benefit individuals and communities across these states," said Dr. Dennis Andrulis, Senior Research Scientist at Texas Health Institute and Associate Professor at University of Texas School of Public Health.
Using the HOPE data, Dr. Christopher said that NCHE will intensify its work identifying policies and practices that can help states, as well as other jurisdictions, close opportunity gaps that are barriers preventing people of color from improving their health outcomes.
"It is no accident that communities of color have been hit the hardest by the devastation of COVID-19," said Dr. Christopher. "These are the same communities facing steep systemic barriers to basic opportunities. The HOPE Initiative is a Call to Action to address the racism contributing to health inequities, and limiting health outcomes for too many people of color."
###
By Brentin Mock
U.S. fair housing laws passed in the 1960s and '70s were supposed to help bring racial parity to a housing market that since its beginning confined Black homebuyers to the cheapest forms of housing in the most undesirable neighborhoods. But since those laws were passed, the disparity in the appraised values between homes in majority-white and predominantly non-white neighborhoods has widened dramatically, according to a new study.
This disparity can't be fully explained by past racially discriminatory practices in the real estate industry, such as redlining, conclude University of Pittsburgh sociologist Junia Howell and University of New Mexico sociologist Elizabeth Korver-Glenn (Read more).