The Urban Institute, with the support of the Robert Wood Johnson Foundation, is hosting a virtual half-day convening, Catalyzing Leadership for Equity, facilitated by racial equity and community engaged methods scholars, to discuss the experiences, challenges, and opportunities facing equity focused leaders of color. The event will take place on Friday, October 14, 2022 from 1:00pm – 4:30pm EDT.
See The Urban Institute event page for additional details.
Join Dr. Gail Christopher on March 8 and 9 at the 2022 Health Summit: Pathways through Policy for Equitable Recovery, where she will present the keynote speech. 
The 2022 Health Summit promote pathways to equitable recovery, renewal, and resilience and move Louisiana forward. The ultimate goal of our collective work is for Louisiana to rank 40th in health outcomes by 2030.
Thank you to the Louisiana Center for Health Equity, Louisiana Department of Health, Office of Public Health, and Pennington Biomedical Research Center for this exciting opportunity!
To join her in this important discussion, register here.
The National Day of Racial Healing 2022
(video posted by:W.K. Kellogg Foundation)
The 6th annual National Day of Racial Healing is dedicated to exploring #HowWeHeal from the effects of individual and systemic racism. Launched on Jan. 17, 2017, it creates a sense of belonging through a shared humanity, inspiring collective action to make a world that is more just and equitable.
The Association of American Medical Colleges (AAMC) Congressional Briefing on Health Equity Data
July 21: 10 a.m. (ET), Virtual
The AAMC will hold a Congressional briefing, "Data for Health Equity: the Foundation for Creating Healthier Communities."
Register here: https://aamc-org.zoom.us/webinar/register/WN_ZEsoBOeOQGOz6NUNqNYiPQ
National TRHT Emergency Town Hall: Responding to Anti-Asian Violence
Join our Collaboratives for Health Equity (CHE) Cook County team, on January 28th, as they speak on what is needed in order to change the maldistribution of money, power, and resources that produces the gross injustices and inequities we see in our communities today.
Thursday, January 28, 2021
5:00-6:30 pm CST
Topic: Covid 19 Vaccination'
Register here: https://www.checookcounty.org/lets-talk-public-health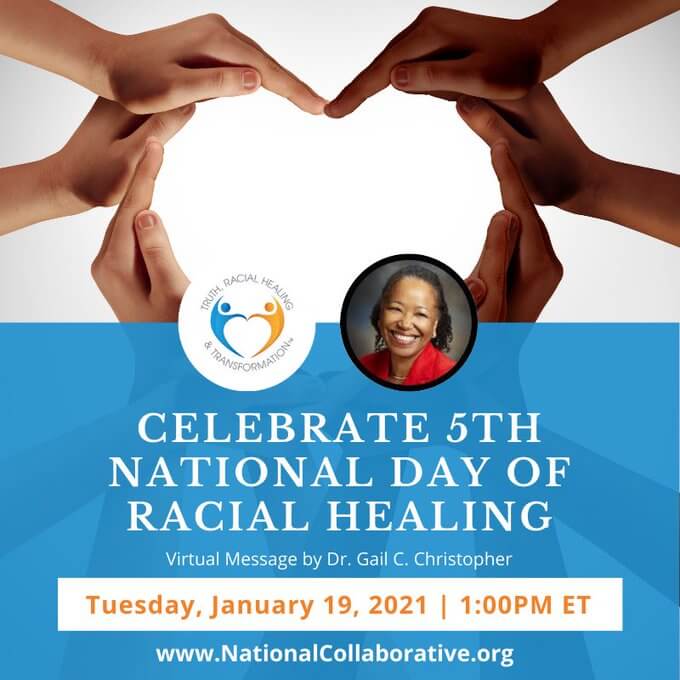 Join us for a message on #RacialHealing #AmericaCanHeal 1.19.21 @1PM ET at  https://nationalcollaborative.org #NationalDayRacialHealing #EndRacialDiscrimination #TheTimeIsNowEndRacialDiscriminiation
The King Center Presents: Beloved Community Global Summit – Day 2: https://fb.watch/35ma6YiTHv/
Dr. Christopher presented at TEDx Charlottesville 2019.
In the spirit of ideas worth spreading, TEDx is a program of local, self-organized events that bring people together to share a TED-like experience. These events are branded TEDx, where x=independently organized TED event. TED provides the rules and guidelines, but TEDxCharlottesville is independently organized and executed. Since 2013, TEDxCharlottesville has participated in the TEDx mission to bring awareness to the rich talent, creativity and innovation found here in Charlottesville, Virginia.
APHA's 2019 Annual Meeting – Closing General Session: 1619 – 2019: Health and Justice Denied
Join Dr. Christopher for her APHA session on Rx racial healing: Disrupting cycles of injustice by transforming racial beliefs, perceptions and behaviors. https://apha.confex.com/apha/2019/meetingapp.cgi/Session/59277
In her session, Dr. Christopher will be discussing:
Evidence-based interventions for changing racial attitudes, conscious and implicit.
Contemporary science and support for eliminating the antiquated idea of a taxonomy of humanity; replacing it with an expressed, empathetic sense of interconnected and equal value among diverse groups.
How participants can actively engage through their organizations and as individuals in racial healing and related transformational activities.