The Association of American Medical Colleges (AAMC) Congressional Briefing on Health Equity Data
July 21: 10 a.m. (ET), Virtual
The AAMC will hold a Congressional briefing, "Data for Health Equity: the Foundation for Creating Healthier Communities."
Register here: https://aamc-org.zoom.us/webinar/register/WN_ZEsoBOeOQGOz6NUNqNYiPQ
National TRHT Emergency Town Hall: Responding to Anti-Asian Violence
Join our Collaboratives for Health Equity (CHE) Cook County team, on January 28th, as they speak on what is needed in order to change the maldistribution of money, power, and resources that produces the gross injustices and inequities we see in our communities today.
Thursday, January 28, 2021
5:00-6:30 pm CST
Topic: Covid 19 Vaccination'
Register here: https://www.checookcounty.org/lets-talk-public-health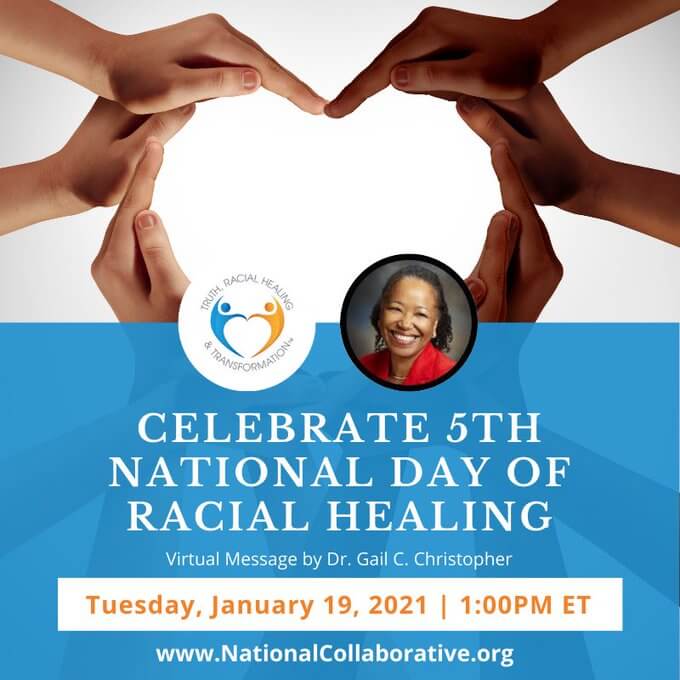 Join us for a message on #RacialHealing #AmericaCanHeal 1.19.21 @1PM ET at  https://nationalcollaborative.org #NationalDayRacialHealing #EndRacialDiscrimination #TheTimeIsNowEndRacialDiscriminiation
The King Center Presents: Beloved Community Global Summit – Day 2: https://fb.watch/35ma6YiTHv/
Dr. Christopher presented at TEDx Charlottesville 2019.
In the spirit of ideas worth spreading, TEDx is a program of local, self-organized events that bring people together to share a TED-like experience. These events are branded TEDx, where x=independently organized TED event. TED provides the rules and guidelines, but TEDxCharlottesville is independently organized and executed. Since 2013, TEDxCharlottesville has participated in the TEDx mission to bring awareness to the rich talent, creativity and innovation found here in Charlottesville, Virginia.
APHA's 2019 Annual Meeting – Closing General Session: 1619 – 2019: Health and Justice Denied
Join Dr. Christopher for her APHA session on Rx racial healing: Disrupting cycles of injustice by transforming racial beliefs, perceptions and behaviors. https://apha.confex.com/apha/2019/meetingapp.cgi/Session/59277
In her session, Dr. Christopher will be discussing:
Evidence-based interventions for changing racial attitudes, conscious and implicit.
Contemporary science and support for eliminating the antiquated idea of a taxonomy of humanity; replacing it with an expressed, empathetic sense of interconnected and equal value among diverse groups.
How participants can actively engage through their organizations and as individuals in racial healing and related transformational activities.
Wed. Feb 6, 3:00–6:00 pm
Banatao Auditorium,
Sutardja Dai Hall
UC Berkeley campus
First broadcast on public television more than 15 years ago, RACE – The Power of an Illusion has become one of the most widely viewed documentaries in American history, and it remains timely and relevant today. The series asks a question so basic it is rarely raised: what is this thing called race? Many of our conventional assumptions, particularly about race being biologically-based, are wrong, yet the consequences of racism are very real. Join us on Feb. 6 for an open forum featuring producers of the series and UC Berkeley faculty discussing the evolution and impact of our ideas about race, then and now. Reception to follow.
Panel Discussion with:
Larry Adelman, executive producer of RACE
John A. Powell, UC Berkeley faculty and Director of the Haas Institute
Michael Omi, UC Berkeley faculty and more guests to be announced!
haasinstitute.berkeley.edu/racewebsite
Children's Health the Current Status of Separated Children in ICE (health/social status).
The webinar will examine the Trump Administration's policy to separate children from their parents and the resulting trauma and health impacts for children and families.
October 4, 2018, from 2-3 pm ET
Moderator – Whitney P. Witt, Ph.D., MPH, Director, Center for Maternal and Child Health Research
Speakers:
Julie M. Linton, MD, FAAP, Clinical Associate Professor at the University of South Carolina School of Medicine Greenville & Co-Chair of the American Academy of Pediatrics Immigrant Health Special Interest Group
Pam McGranahn, Psychiatric Mental Health Nurse Practitioner -Adverse Childhood Experiences & the Life Course
Learning Objectives to:
Describe the current status of separated and detained children in ICE (health/social status);
Understand the adverse impacts of the trauma of separation and detention on children and the long-term implications for their mental health and well-being;
Identify policy strategies regarding increased transparency, standards of care in detention centers; and
Identify advocacy action steps for members of APHA and other child advocates to end this practice, reunite families, and provide interventions where needed.
Register Here: https://ampublichealth.wufoo.com/forms/z9cnhcn0shggod/
NAATPN, Inc., in conjunction with the National Medical Association, the NAACP and the Southeast Health Equity Council, is pleased to host a national conference to address the state of health in America and to outline a platform to promote equity in African American communities. On September 11- 13, 2018, NAATPN, Inc. will host the first ever State of Black Health National Conference in Atlanta, GA at the Westin Peachtree Plaza Atlanta.
The State of Black Health National Conference will address current health, economic, and social justice disparities impacting African Americans and outline a national policy platform to address those disparities. Tobacco use kills more than 45,000 African Americans annually and chronic diseases, including HIV/AIDS, continue to disproportionately impact African Americans. In addition, workforce development and the attainment of livable wages remains a primary concern in most African American urban, and rural communities. Current conditions in the U.S. aren't conducive to positive health outcomes in African American communities; in fact, unless a new policy agenda is developed and implemented, the pursuit of African American health equity could remain out of reach. Registration is open now.
For more information and to register click here