Chair of the TFAH Board of Directors Gail Christopher, D.N. and President and CEO J. Nadine Gracia, M.D., MSCE released the following statement in recognition of Juneteenth, 2022.
(Washington, DC – June 17, 2022) — "Juneteenth is a celebration of freedom. It's also a day on which we should recognize that as a nation we have more work to do before all Americans are free from the burdens of social, economic, and health inequities.
Well over a century after the first Juneteenth, structural racism continues to have far-reaching impacts on health, well-being, and opportunity.
Our goal is to recommend policies that will advance the social, economic, and environmental conditions that promote health by ensuring equitable access to high-quality childcare, education, employment, safe and affordable housing, transportation, and healthcare for all Americans."
Trust for America's Health calls for the following policy actions to reverse the impact of structural racism in America:
Make advancing health equity and eliminating health disparities a national priority. This includes increasing funding for programs that advance healthy equity, such as the Center for Disease Control and Prevention's (CDC) Racial and Ethnic Approaches to Community Health and Healthy Tribes Programs.
Invest in multisector efforts to address upstream drivers of poor health through CDC's Social Determinants of Health program.
Target the elimination of poverty by increasing the minimum wage and expanding the Earned Income Tax Credit at the national and state levels.
Increase access to high-quality healthcare for all by strengthening incentives to expand Medicaid in all states and by making marketplace coverage more affordable for low-and moderate-income people.
Create a national standard mandating job-protected paid family and medical leave for all employees.
Increase funding for programs that promote long-term security and good health for children and families, including programs designed to expand access to affordable housing, Head Start, Early Head Start, and nutrition support programs such as Healthy School Meals for All, the Supplemental Nutrition Assistance Program (SNAP), and the Special Supplemental Nutrition Assistance Program for Women, Infants, and Children (WIC).
For more information about these and other policy recommendations see these TFAH reports:
A Blueprint for the 2021 Administration and Congress – The Promise of Good Health for All: Transforming Public Health in America.
Leveraging Evidence-Based Policies to Improve Health, Control Costs, and Create Health Equity
The National Collaborative for Health Equity (NCHE) applauds the work of TFAH and supports these vital social policy actions. NCHE recognizes that we have to generate the public will for enacting and sustaining the needed policies. One vehicle for doing this is the Truth, Racial Healing, and Transformation (TRHT) work of communities across America. This work involves changing false narratives, building trusted relationships, as well as addressing the systemic and institutional legacies of the false ideology of the hierarchy of human value.
While the federal holiday, Juneteenth, enables us to celebrate the end of slavery, we must all remember that the beliefs that animated it for centuries lived on and continue to exist today. Racism must end.
Join Dr. Gail Christopher on March 8 and 9 at the 2022 Health Summit: Pathways through Policy for Equitable Recovery, where she will present the keynote speech. 
The 2022 Health Summit promote pathways to equitable recovery, renewal, and resilience and move Louisiana forward. The ultimate goal of our collective work is for Louisiana to rank 40th in health outcomes by 2030.
Thank you to the Louisiana Center for Health Equity, Louisiana Department of Health, Office of Public Health, and Pennington Biomedical Research Center for this exciting opportunity!
To join her in this important discussion, register here.
The National Collaborative for Health Equity (NCHE) welcomes Luz B. Delgado as Deputy Director for Programs & Strategy.
Ms. Delgado is a national expert in organizational management, grassroots mobilization, and advocacy for social justice and equity.  Ms. Delgado worked with Fortune 500 pharmaceutical companies, as well as in the philanthropic, and non-profit sectors.  She worked with the W.K. Kellogg Foundation, where she was a Program Officer for Truth, Racial Healing & Transformation and Deputy Director to the Vice for Racial Equity and Healing, Community Engagement & Leadership, Learning & Impact, and the priority places of New Mexico, Mississippi, and New Orleans.
"I support change and transformation in organizations and executives to achieve equity, racial equity, inclusion, diversity, and social justice," Ms. Delgado said. "I look forward to continuing that work with NCHE."
Ms. Delgado will play a critical role in overseeing NCHE's three priority areas: Truth Racial Healing and Transformation for Health Equity, Research Data and Information Systems, and Leadership for Health Equity.  A key member of the NCHE leadership team, she will lead NCHE's strategic planning and partnership efforts to advance NCHE's growth and development of a diverse and passionate team that represent the values and equity-centered vision of NCHE.   
Ms. Delgado holds a Masters in Organizational Management and Development from Fielding University, Santa Barbara; and a BA in Management at Universidad Interamericana, Arecibo, Puerto Rico. 
We are also happy to announce NCHE promotions for Jalisa Whitley and Willene Hare.
Jalisa Whitley has been promoted from Senior Program Manager to Director of Leadership Programs, where she will help develop leaders and catalyze cross-sector partnerships that create a more equitable and just society. Recognizing that action, leadership and collaboration drive policy decisions, Ms. Whitley strives to connect with people impacted by social and racial injustices and transform systems and institutions built on the enduring legacy of racism.
A native of Geneva, New York, Ms. Whitley received a Bachelor's of Arts in Sociology and Public Policy from Hobart and William Smith Colleges and a Masters of Public Policy in Nonprofit Management and Leadership from the University of Maryland, College Park. 
As Director of Leadership Programs, Ms. Whitley is responsible for assisting in the development, implementation, quality, and success of the NCHE leadership programs and other NCHE initiatives, including the Culture of Health Leadership Institute for Racial Healing and Healing Through Policy Initiative, an initiative of the de Beaumont Foundation, the American Public Health Association, and the National Collaborative for Health Equity.
Willene Hare has been promoted from Program Coordinator to Program Associate. She will continue to support NCHE's leadership programs, specifically, the Culture of Health Leadership Institute for Racial Healing (CoHLI), a new 18-month leadership experience that supports on the ground practitioners within diverse public health, health equity, advocacy, academic, nonprofit, and other networks to engage in shared learning and strategy development.  As Program Associate, she will also support a variety of NCHE's other programs.  Ms. Hare received her degree in International Comparative Studies, Bachelor of Arts, Health Policy certificate from Duke 2007, Masters of Public Administration from University of the District of Columbia in 2011.
"We are all excited to welcome Luz Benitez Delgado to our NCHE team; and we celebrate the promotion of our talented and dedicated staff members, Jalisa Whitley and Willene Hare.  It's with joy that we announce these staff changes to meet the expanding demand for our work on racial and health equity." Gail C. Christopher
Safe States is now accepting applications for three seed grants of $25,000 each to advance the vision outlined in a recent special convening of the Injury and Violence Prevention Network (IVPN). The IVPN special convening took place in December 2021 to further mobilize IVPN members and supporting colleagues to identify opportunities for the IVP field to collectively realize a vision for addressing inequities through partnership and policy activities.
The summary report from this meeting highlights discussions that:
• Established a mutual intention for exploring the possibilities of addressing racial and health inequities in the IVP field.
• Identified where the intersections exist that connect our daily IVP work to equity and justice approaches.
• Analyzed successes, challenges, and barriers to addressing inequities in our IVP activities.
• Developed a shared vision of opportunities, actions, and responsibilities to address equity in our IVP partnership and policy strategies.
Through this current Request for Proposals (RFP), Safe States will award three seed grants of $25,000 each for use from March – September 2022 to operationalize and integrate equitable approaches to advance one or more of the needs identified during the IVPN special convening.
Learn more about the seed grants and how to apply here. Questions can be directed to [email protected].
Applications Due Friday, February 18, 2022.
The National Day of Racial Healing 2022
(video posted by:W.K. Kellogg Foundation)
The 6th annual National Day of Racial Healing is dedicated to exploring #HowWeHeal from the effects of individual and systemic racism. Launched on Jan. 17, 2017, it creates a sense of belonging through a shared humanity, inspiring collective action to make a world that is more just and equitable.
The Collaboratives for Health Equity (CHE) teams met on January 18th to discuss the use of state data to create more resilient inclusive communities and fight structural racism and inequality, as well as combat the COVID-19 pandemic.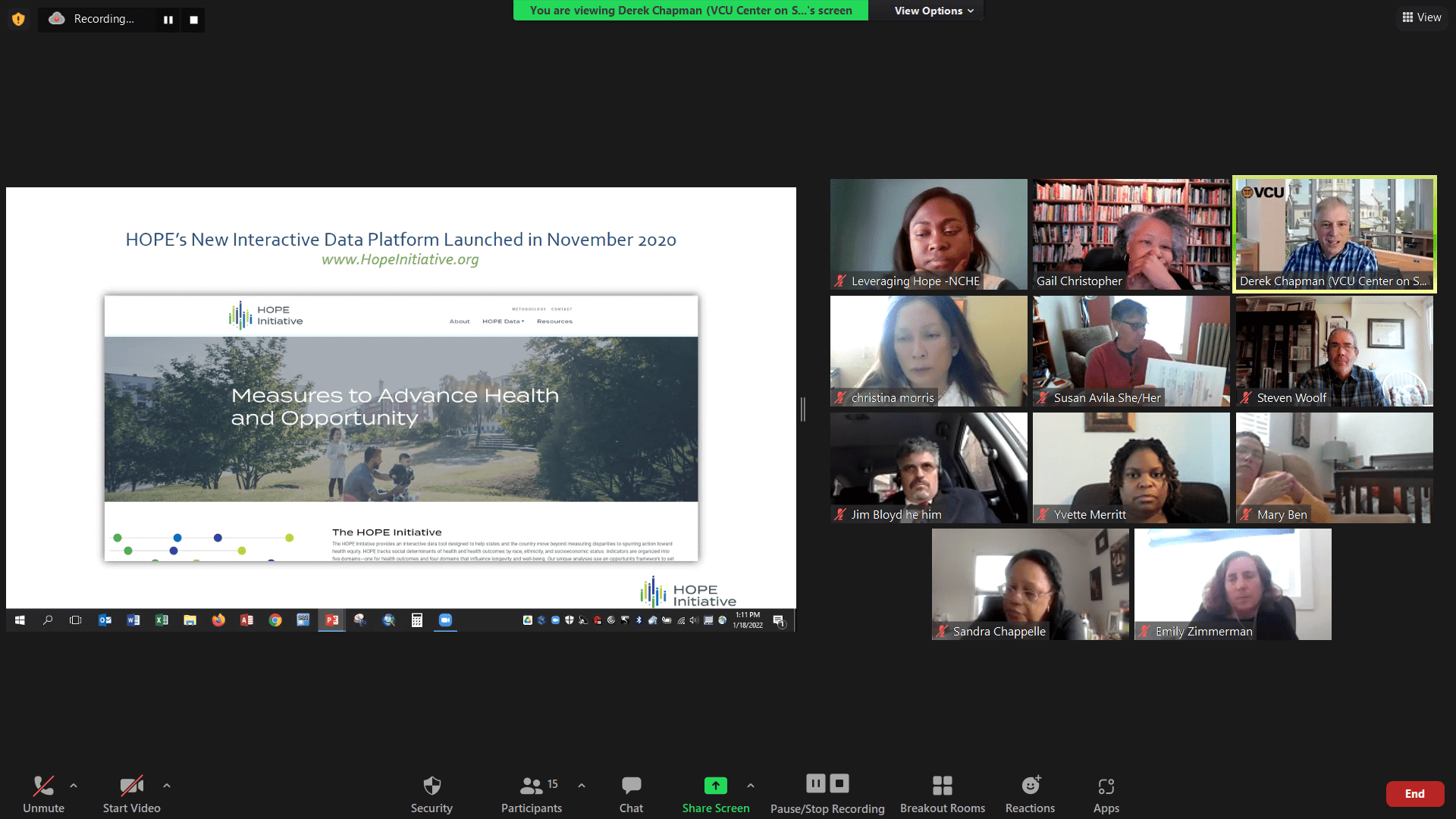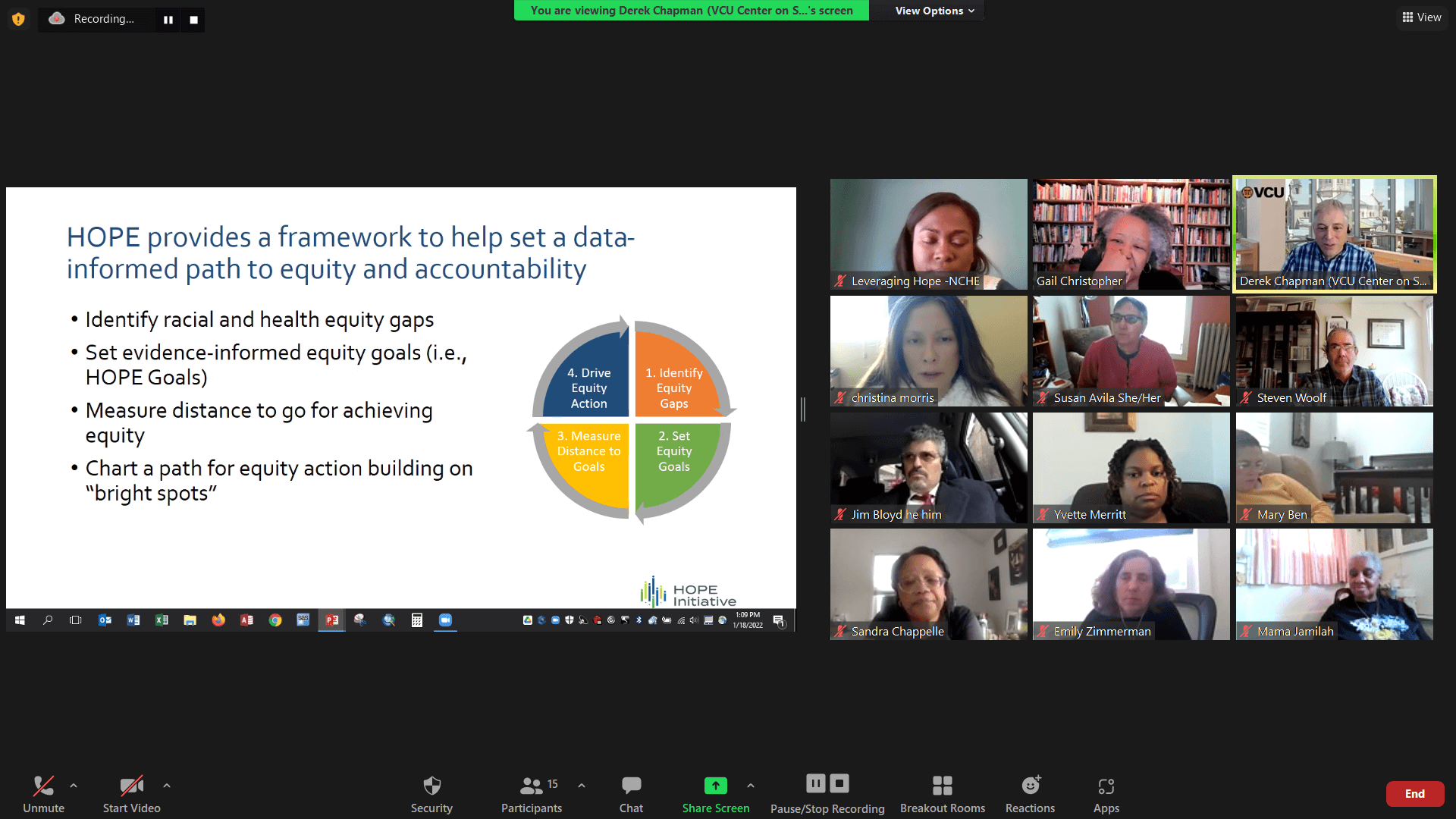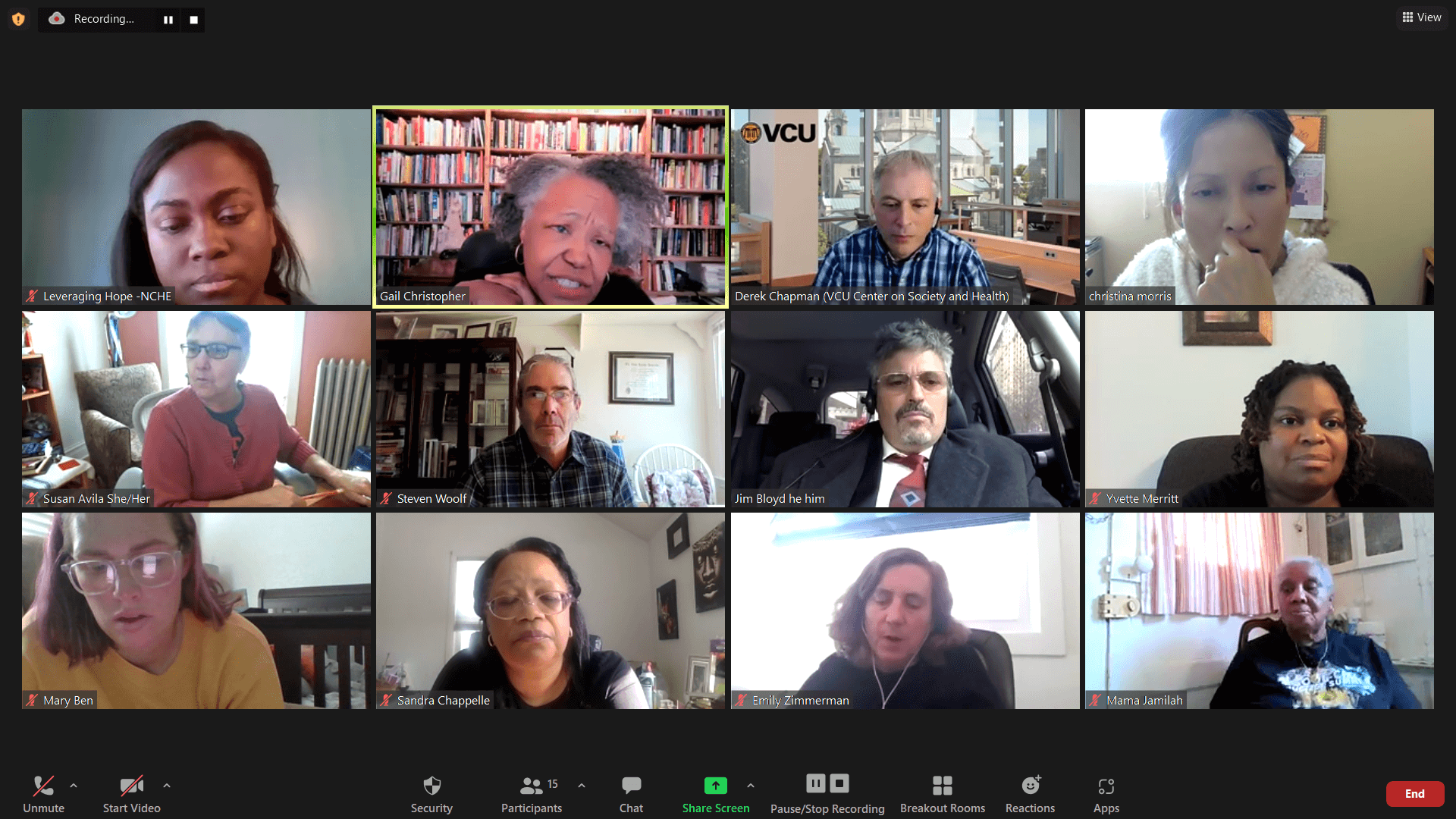 FOR IMMEDIATE RELEASE
January 18, 2021
Contact:
Michael K. Frisby
[email protected]/202-625-4328
Statement by Dr. Gail C. Christopher, Executive Director, National Collaborative for Health Equity
NATIONAL DAY OF RACIAL HEALING CELEBRATES THE VOICES IN AMERICA CALLING FOR UNITY AND PEACE
Dr. Christopher's Complete Video Message is HERE
WASHINGTON – "The National Collaborative for Health Equity has a vision and a mission to eliminate health inequities and to help create conditions that will allow all people to experience optimal health and well-being. But we know that the biggest barrier to achieving that mission is racism. And so, as part of our work, we are helping this country to overcome racism and its harmful legacy. Today is the 6th annual National Day of Racial Healing. Why focus a day on racial healing? Because we need to lift up the voices for unity, for peace, for engaging communities in the process of learning how to see ourselves in the face of the perceived other. America was built on a fallacy, on a hierarchy of human value. In the early centuries of this country that belief system was enacted through the decimation and the taking of the lands of indigenous people, the forced enslavement of African people, immigration policies that were based on that racial hierarchy.
"This notion of racism is built into the systems and structures of our society. And to a large measure, we're in denial about that as a root cause and a root threat to the very viability of our democracy. Now, if you turn on the news these days, you'll hear whispers about the possibility of a civil war. You'll also hear about surveys that say that a large number of people think that political violence is okay.
"I want us to recognize that we have the power to quiet those voices. We have the power to come together as a society and actualize the core tenets of our democracy. All people were created equal and all people should have an equal right to life, liberty and the pursuit of happiness. But that will only happen when all people, and certainly the majority of people, actually commit to that as our primary work. And that's what the National Day of Racial Healing is about. It's about paying attention to the unfinished business of creating an equitable society. It's about working to eliminate the permission to devalue some people and value others based on superficial characteristics. And it's about creating structures of opportunity and putting in place practices that understand the complexity of that work.
"We created the National Day of Racial Healing to fall every year one day after we celebrate the Martin Luther King Jr holiday. Why is that? Because it's a day that we set aside to pay attention to the reasons Dr. King both lived and died to help us as a country believe that we could create the Beloved Community. And, the Beloved Community is built on valuing all people equally.
"I'm excited that our national partners are also committed to this work. Over 300 organizations are supporting the call for the creation of a National Commission on Truth, Racial Healing and Transformation (TRHT). Many communities are implementing a version of the TRHT process. I define racial healing as our individual and collective efforts to eliminate the belief in the false hierarchy of human value. And most importantly, to replace that belief with a reverence and respect and regard for our interconnectedness and learning how to see ourselves in the face of the other or the perceived other. That's learning how to be empathetic, how to be compassionate and how to translate that empathy and compassion into standing up for justice in this country and for fair and equitable opportunities.
"Voices are calling for unity and peace, calling for embracing our full humanity as a society, the full humanity of all of us. And we know that we must do this for ourselves and for future generations. Our democracy depends on our collective effort to heal and to transform. I hope this National Day of Racial Healing is an important day for you because you recognize the primacy of this work."
Download PDF Version HERE.
The COVID-19 pandemic laid bare the gaps in our public health infrastructure. When data are inconsistently collected across states and localities; are incomplete; aren't shared in a timely fashion; or don't capture vital race and ethnicity information, it's impossible to understand the full impact of any crisis.
The Robert Wood Johnson Foundation established a first-of-its-kind National Commission to Transform Public Health Data Systems to reimagine how data are collected, shared, and used, and identify what public and private investments are needed to advance health equity. Led by Dr. Gail Christopher of the National Collaborative for Health Equity (NCHE), the 16-member Commission represents a diverse group of innovators and experts representing multiple sectors – health care, community advocacy, government, business, public health, and others – and I am pleased to be a member of this Commission.
The Commission examined both the systems and the data needed to ensure public health information works for all, including who the data we collect elevates, who is being centered in our data, who is being excluded, and why. The report includes overarching recommendations and steps a range of stakeholders can take that offer a blueprint for change with equity at their core. Learn more: RWJF Transforming Public Health Data Systems.
View Webinar: Charting a Course for an Equity-Centered Data System
Title: Deputy Director for Programs and Strategy
Location: Washington, D.C. (There will be remote consideration for this role.)
Reports to: Executive Director
Status: Full-time, Non-Exempt
Salary: $140,000-160,000
Founded in 2014, NCHE was established to promote health equity through action, leadership, inclusion, and collaboration. Health equity, in our view, requires creating the conditions that foster the best possible health for all populations, regardless of race, ethnicity, socioeconomic status, or nativity. It requires us to actively measure and improve conditions for health and well-being, including those related to housing, education, income and wealth, and the physical and social environment. And it requires us to correct historic and contemporary injustices and inequities in these dimensions that are often brought about by racism operating at structural, institutional, and interpersonal levels. NCHE's work is guided by the Truth, Racial Healing, and Transformation framework (TRHT), a comprehensive, national and community-based process to plan for and bring about transformational and sustainable change, and to address the history and contemporary effects of racism, envisioned by Dr. Gail Christopher, Executive Director of NCHE.
POSITION SUMMARY
At a pivotal moment of growth, NCHE now seeks a Deputy Director for Programs and Strategy to provide high-level leadership to NCHE's programs and strategy, lead NCHE's partnerships and organizational alliances, and serve as an external representative and advocate for NCHE.
The Deputy Director will report to the Executive Director and provide leadership to a dedicated team in the growth of NCHE's programs and impact in the field. Key areas of responsibility include:
Vision & Strategy
The Deputy Director will provide leadership to programs and initiatives of NCHE, ensuring alignment with organizational strategy, mission, and vision. The growth of the programmatic work will elevate a focus on the connections between data and community empowerment through knowledge and insight. Additionally, the Deputy Director will partner with the Executive Director to develop and provide robust consultative services that integrate health equity and racial healing into organizational development strategies for partners and clients. S/he/they will lead the development of NCHE's written publications to ensure that lessons learned and expertise are shared widely.
NCHE'S CORE PROGRAMS AND IMPACT
NCHE has distinguished itself as a leader in leading collaborations that are designed to change the course of racial inequality and the health inequities that come as a result. At a moment of significant opportunity in the field, NCHE is expanding its programmatic work to focus on helping local jurisdictions apply the equity focused data- domains and indicators, of the HOPE Data initiative in advocating for public health policies that will help to ensure a more equitable recovery from the Covid19 pandemic. Additionally, NCHE is leading the following programs and initiatives in support of its mission:
Culture of Health Leaders is co-led by NCHE and CommonHealth ACTION and funded by the Robert Wood Johnson Foundation (RWJF). This program will develop leaders to promote a national Culture of Health through collaboration and transformational leadership in their communities.
The Health Opportunity and Equity (HOPE) Initiative provides an interactive data tool designed to help states and the country move beyond measuring disparities to spurring action toward health equity. HOPE tracks social determinants of health and health outcomes by race, ethnicity, and socioeconomic status. This work leverages an opportunity framework to set aspirational but achievable goals to improve life outcomes—especially populations of color most affected by systemic racism and conscious and unconscious bias.
Collaboratives for Health Equity (CHE) is a national network designed to empower leaders and communities to identify and address social, economic, and environmental conditions that shape health and life opportunities. Funded by the W.K. Kellogg Foundation, this initiative is focused on helping community leaders make their towns and cities better places and healthier places to live.
Healing Through Policy (HTP) is a collaboration between NCHE, American Public Health Association (APHA), and the de Beaumont Foundation. The partners scanned the literature and reached out to the field to curate a set of policy briefs that describe policies and practices which align with the TRHT framework and can help jurisdictions implement strategies to address racism as a public health crisis. NCHE will help jurisdictions utilize this information.
National Commission to Transform Public Health Data Systems (TPHD), funded by RWJF and led by NCHE, is charged with reimagining how data is collected, shared, and used, and identifying which public- and private-sector investments are needed with the express purpose of modernizing our public health data infrastructure to improve health equity. The commission will explore challenges and opportunities such as new data sources and measures that show promise for future public health surveillance; data disaggregation to better identify risk and outcomes by race, gender, and ethnicity; data collection on vulnerable populations, such as the incarcerated; use of data in communication with the public; building data capacity in poorer resourced communities; community involvement in shaping data systems; and data interoperability.
For more information on NCHE's programs: https://www.nationalcollaborative.org/our-programs
OPPORTUNITIES AND CHALLENGES FOR THE NEW DEPUTY DIRECTOR
Partnership Building, Fund Development & External Representation
The Deputy Director will play a critical role in cultivating relationships with new and existing partners across the field to develop shared resources, partnerships, and opportunities for collaboration. S/he/they will develop relationships with new and emerging funders and identify new opportunities for funding partnerships to advance NCHE's work. As NCHE continues to grow, the Deputy Director will also represent NCHE externally in field-facing environments, with media, and national and local policymakers.
Organizational Management & Team Culture
A key member of the NCHE leadership team, the Deputy Director will support the growth and development of a diverse and passionate team who represent the values and equity-centered vision of NCHE through their work. S/he/they will manage overall workflow and deliverables across NCHE's team to ensure successful project execution and quality work products. The Deputy Director will also support the continued development of principles, practices, and policies that reflect racial equity, diversity, inclusion, and awareness of power dynamics.
Organizational Management & Team Culture
A key member of the NCHE leadership team, the Deputy Director will support the growth and development of a diverse and passionate team who represent the values and equity-centered vision of NCHE through their work. S/he/they will manage overall workflow and deliverables across NCHE's team to ensure successful project execution and quality work products. The Deputy Director will also support the continued development of principles, practices, and policies that reflect racial equity, diversity, inclusion, and awareness of power dynamics.
QUALIFICATIONS OF THE IDEAL CANDIDATE
While no one candidate will embody all the qualifications enumerated below, the ideal candidate will possess many of the following professional and personal abilities, attributes, and experiences:
Strategic Leadership and Core Knowledge
Extensive knowledge of a range of health equity topics related to racial and ethnic health inequities, including social determinants of health, health care, and related public policy issues.
Demonstrated understanding of and experience implementing the Truth, Racial Healing, and Transformation (TRHT) framework in programmatic work.
Deep knowledge and experience working with and cultivating a diverse set of community-based organizations, philanthropy, and cross sector collaborations.
Knowledge of research and data analysis methods, including literature reviews and community-based participatory research strategies.
Ability to think across systems and sectors to identify opportunities for collaboration and shared outcomes; experience advancing policy change as an effective lever to advancing health and health equity.
Demonstrated passion for and investment in advancing justice and equity. Combination of educational and lived experience aligned with NCHE's mission and values.
Relationship Stewardship and Cultivation
Experience managing multi-faceted relationships with funders and partners; a track record of success in aligning their work with funders' strategies and setting achievable expectations.
Strong convening and facilitation skills and an authentic interest in creating opportunities for learning from others.
Highly developed emotional intelligence and active listening skills, and the ability to use interpersonal skills in collaborative, diplomatic ways.
Superb communication and external relations skills and demonstrated success in building an organization's profile and reputation in local, regional, national, and professional communities.
Team Management
Experience mentoring, developing, and providing leadership to high-performing, multi-disciplinary teams and partners that engage staff to achieve program goals.
Collaborative and reflective leadership style that values staff contributions and experiences and effectively manages and motivates teams toward a shared vision and measurable goals.
Education and Experience
A minimum of a master's degree in related field with Public Health education or experience or degree in a relevant field (e.g., law, sociology, public health, psychology) or equivalent experience required.
At least 8-10 years of experience managing health equity-related programs and initiatives.
SALARY AND BENEFITS
The compensation range for the Deputy Director role is $140,000-160,000. NCHE also offers a comprehensive benefits package that includes fully paid health, vision, dental, insurance; group life insurance; short- and long-term disability; and a 401k match.
The NCHE office is based in Washington, D.C., and NCHE staff all currently work from their home offices during the Covid-19 pandemic. Once there is a safe return to the office, staff will be expected to participate in person for key meetings and events. There will be remote consideration for this role.
HOW TO APPLY
More information about NCHE may be found at: www.nationalcollaborative.org. This search is being led by Linh Nguyen, Cara Pearsall, and Andres Marcuse-Gonzalez of NPAG. Due to the pace of this search, candidates are strongly encouraged to apply as soon as possible. Candidates may submit their cover letter, outlining their interest and qualifications, along with their resume via NPAG's website.
NCHE is an equal opportunity employer and proudly values diversity.
Candidates of all backgrounds are encouraged to apply.
Dr. Gail C. Christopher and Professor john a. powell Named Recipients of 2021 John W. Gardner Leadership Award (Read more).
By Independent Sector