FOR IMMEDIATE RELEASE
February 26, 2021
Contact:
Michael K. Frisby
[email protected]/202-625-4328
Statement by Dr. Gail C. Christopher, Executive Director, National Collaborative for Health Equity 
A TRUTH, RACIAL HEALING AND TRANSFORMATION COMMISSION CAN BRING UNITY, EQUITY AND RACIAL HEALING TO OUR NATION
"NCHE applauds Rep. Barbara Lee and Sen. Cory Booker for reintroducing a resolution in the House and Senate calling for the nation's first national Truth, Racial Healing and Transformation (TRHT) Commission.  After four years of divisive rhetoric and increased violence fueled by racial hatred, it is critical that America has a mechanism to bring communities together to heal wounds of the past and find pathways for a more just future in Black, Indigenous and People of Color (BIPOC) communities.  The Jan. 6 insurrection and assault on the Capitol was an attack on the votes and civil liberties of millions of voters of color, and subsequently on the integrity of our democracy.  The attack underscored the need for racial healing and a transformation in our people, our leaders, our communities and our institutions.
"This is a big ask.  And to be accomplished, we need the power, resources and coordination that could be provided by the federal government partnering with communities to lead the healing process. This is a moment of racial reckoning.  The Covid-19 pandemic's economic, mortality and morbidity inequities are contributing to this unprecedented moment. Clearly, enough of the nation wants to transform systems to address equity and fairness across the land.  Racial healing is now an imperative for protecting our national security – united communities can be important assets to help prevent future violence. Unifying and healing America can be accomplished through TRHT – the coordinated multi-sector, intergovernmental effort embedded in and led by local communities.
"The Biden administration promised to build back better and what's better for America today is addressing the legacy of racism – the past and present. As a nation, it is critically important that we acknowledge the inequities of the past, their persistence today, and then act earnestly to heal the wounds and move forward together. NCHE believes that a TRHT Commission can help jettison the hierarchy of human value and launch a new era where all human beings are valued and have a capacity to see ourselves in one another.
"That's the America that so many of us want."
Join our Collaboratives for Health Equity (CHE) Cook County team, on January 28th, as they speak on what is needed in order to change the maldistribution of money, power, and resources that produces the gross injustices and inequities we see in our communities today.
Thursday, January 28, 2021
5:00-6:30 pm CST
Topic: Covid 19 Vaccination'
Register here: https://www.checookcounty.org/lets-talk-public-health
By Dr. Gail C. Christopher
Executive Director
National Collaborative for Health Equity
"On this day of service and reflection, the greatest service we can render as individuals and collectively is to commit to ending racism. We have now all witnessed the dangerous and destructive consequences of believing in a false hierarchy of human value, indeed of human lives. The lie of racial hierarchy and its many associated false narratives were laid bare recently. This nation's symbolic place and institutional processes of democratic governance were violated with reckless, but determined abandon. We are still reeling from the shock and humiliation in our hearts and bodies and in the eyes of the global community.
"Dr. Martin Luther King, Jr. believed we would get to the Promised Land. I believe that, too. But we must commit to the necessary work before realizing his vision, his dream. Not enough Americans share Dr. King's Dream and far too few are willing to labor to bring it into reality. Overcoming and healing from racism requires focus, intention and disciplined effort. Most public health leaders know that defeating the Covid-19 pandemic requires communal effort.
"Our individual choices and decisions shape our collective realities and structures of normality. Many public health leaders have recently asserted that racism is a twin pandemic, a lethal public health crisis. This level of increased awareness is good news. It is time that we view the work of ending racism as a communal effort, too. The beliefs we hold about ourselves and others drive our thoughts, feelings decisions and actions. Critical actions like voting, engaging law enforcement, hiring or firing, providing opportunity or rendering medical treatment, enforcing health and safety codes and college admissions are a few illustrations of decision points that can be shaped by our levels of racism.
"Our beliefs are shaped by our lived experiences beginning in childhood. Democracy cannot translate into equity until we jettison permission to devalue people based on an antiquated taxonomy of humanity. America's most deeply enshrined racist ideology will keep showing up within systems and policies, institutional cultures and structures of opportunity and in the communications tools of this era, mainstream and social media, until we deliberately and permanently eliminate the ideology. Algorithms will also embody and perpetuate the lies and patterns of racial hierarchy via technology and artificial intelligence without immediate intervention to stop the spread.
"Dr. King knew the protests and marches were means to an end: the creation of the Beloved Community. We also need the skills and capacities required for civility, empathy, compassion and perspective-taking. These skills are developed through effective racial healing, truth telling, trust building and transformation efforts. This is the vaccine needed for the pandemic of racism and it too will require a massive mobilization effort in response to the fierce urgency of then and now."
###
PDF Version: MLK Day Statement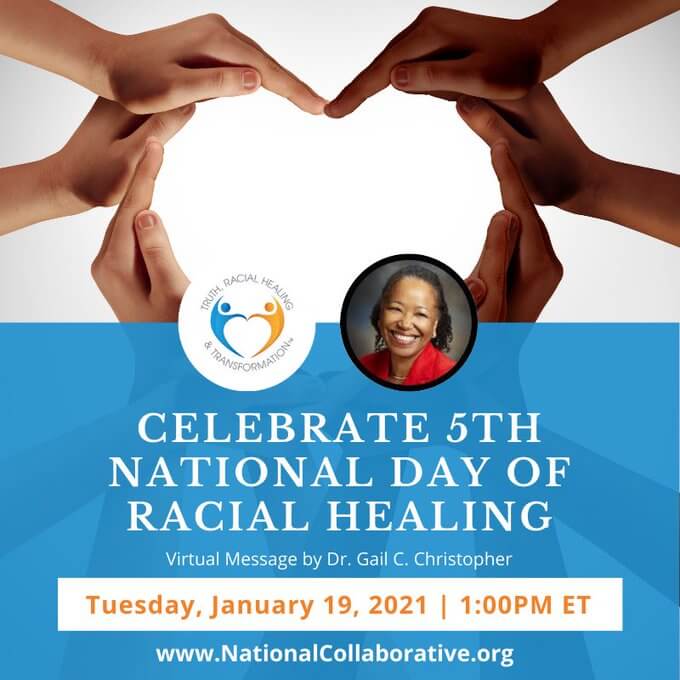 Join us for a message on #RacialHealing #AmericaCanHeal 1.19.21 @1PM ET at  https://nationalcollaborative.org #NationalDayRacialHealing #EndRacialDiscrimination #TheTimeIsNowEndRacialDiscriminiation
Culture of Health Leaders Welcomes Cohort 2020!
These leaders have already accomplished remarkable things. As they begin the next chapter of their leadership journeys, we are excited to learn alongside them and work together to build a Culture of Health.
Meet the new leaders here – COHORT 2020!
Public Health Institute: Press Release
Thirteen major philanthropic foundations have pooled resources to launch Together Toward Health, a $20 million initiative to stop the spread of coronavirus and strengthen health and resilience in California's most impacted communities. Supporting foundations include: The Ballmer Group, Blue Shield of California Foundation, The California Health Care Foundation, Genentech, Gordon and Betty Moore Foundation, the Conrad N. Hilton Foundation, Heising-Simons Foundation, The James Irvine Foundation, The Sierra Health Foundation, The California Endowment, The California Wellness Foundation, Chan Zuckerberg Initiative, and the Weingart Foundation (Read more).
Job Opening: Senior Program Officer/Program Officer
Application Information
Click here for the full job description
The de Beaumont team is collaborative, passionate, and deeply committed to creating bold solutions for healthier communities.
This position is full-time and based in downtown Bethesda, MD, just outside of Washington, DC. Given the reality of the COVID-19 pandemic, there is an opportunity for telework until at least June 2021.
Compensation is commensurate with experience. The salary range is $80,000 to $90,000 for Program Officer candidates and $110,000 to $120,000 for Senior Program Officer candidates. The Foundation also offers excellent benefits and a collegial work environment.
Candidates should send a cover letter, resume, and salary expectations to [email protected] with the subject "SPO/PO application".
On September 14, 2020, Dr. Gail Christopher spoke on Racial Healing on Office of Community Empowerment & Opportunity's Panel, Reconciliation: Learning from the Past to Heal America's Future.
Achieving health equity requires eliminating racism. We are supportive of Congresswoman Barbara Lee's ongoing and long-standing leadership on issues of racial justice and equity. She has introduced a resolution calling for the creation of a US Truth, Racial Healing and Transformation Commission. We at National Collaborative for Health Equity encourage you to educate decision makers about this important effort and raise your voices in support. Please see the related press kit and supporting documents below.
Truth and Racial Healing Press Kit
We are excited to announce the Health Opportunity and Equity Initiative's newly published blog from Health Affairs, which features our analysis of data on COVID-19 and health equity in Arizona, Maryland, and Wisconsin. On June 25, HOPE also unveiled a new, interim site that examines how existing inequities play a role in the virus' disproportionate effects on poor, marginalized, and communities of color.
The HOPE Initiative is interactive data tool designed to help our nation and states move beyond measuring disparities to spur action toward achieving health equity. The project is sponsored by the Robert Wood Johnson Foundation, and is a partnership of the National Collaborative for Health Equity, the Texas Health Institute, and Virginia Commonwealth University. Our full site will launch in late summer, 2020, where we offer a 50-state analysis of 24 critical factors in people's health and well-being by race, ethnicity, and socioeconomic status.
Please check out these new resources, share them with your networks, and be on the lookout for our full site to go live later this summer.